Get it poppin' (Oct 5-8)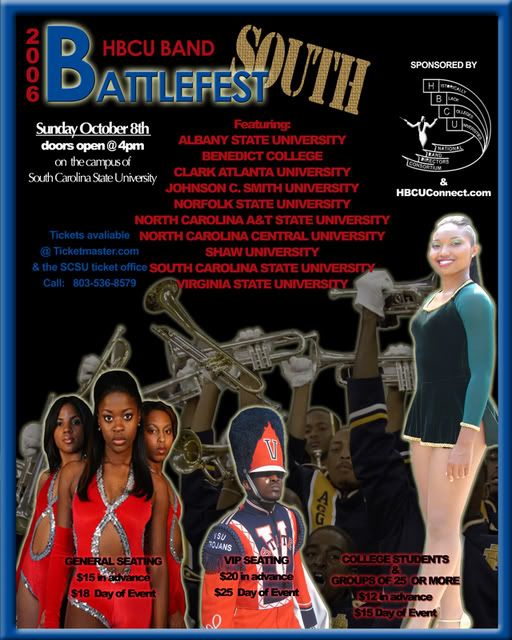 It's been a hectic two weeks for ya boy, and this one isn't gonna be any easier. Big game tonight for NC State, who takes on Florida State on ESPN. Look for the NCCU Marching Sound Machine at the game, as they will be filling in for FSU's band for the night. It should be an interesting look to see Marching Sound Machine show the NC State fans what a real halftime show looks like. This weekend is WSSU's homecoming, and though it is just outside our relative area, it will definitely be worth the drive this weekend.
If you like HBCU marching bands, you definitely will want to make the drive down to SC State to check out
Battlefest South
. This will be the largest collection of bands until the Honda Battle of the Bands in January. Look out for SC State, NC A&T, Norfolk State, Virginia State and of course the Marching Sound Machine of NCCU.
And... your events:
THURSDAYGreensboro
Thirsty Thursday's Mardi Gras Explosion
, hosted by NB Productions
10 PM
The Atlantis Cafe on 3035 Highpoint Rd.
FRIDAYRaleigh
Friday Night Live: College 1st Fridays
, hosted by Show Stoppaz
9 PM
Club Xscape at 7112 Sandy Forks Rd.
Winston-Salem
The Homecoming 1, 2, 3 Joint
, hosted by Kappa Alpha Psi
10 PM
Metal Rebel at 2105 Peters Creek Parkway
SUNDAYOrangeburg, SC
Battlefest South
4 PM
Campus of South Carolina State University
More comin...